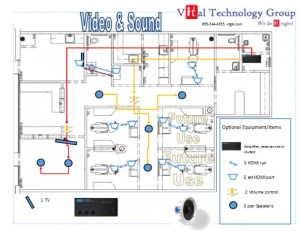 VTG can integrate a variety of options for entertaining your patients, and/or setting you up to play patient education, and allow you to play your own promotional video's.
VTG offers several Audio solutions for your office to generate a soft and settle audio solution that helps minimize patients hearing other patients and or staff conversations.  Ask us for more details on our Audio and Visual systems.
We also offer camera systems that can tie into your A/V and computer network systems, and allow you to view your office remotely from your smart phone.